Are you constantly overwhelmed by the amount of emails in your inbox? It can be challenging to keep up with important emails while sifting through spam and junk mail. However, there's a handy feature in Outlook that can significantly streamline this process—the "Favorites" folder.
By adding your Junk Mail folder to Outlook Favorites, you can quickly access and manage potentially important emails that might have been mistakenly filtered as spam. In this blog post, we'll walk you through how to add the Junk Mail folder to your Favorites folder.
Where is the Junk Mail Folder?
First, let's talk about how to find the Junk Mail folder. The Junk Mail folder is a dedicated folder in Outlook that automatically stores emails from senders who are not in your contacts or address book.
To locate the Junk Mail folder, open your Outlook program and click on the "Mail" tab. Here you will see a list of folders that are used to store emails. The Junk Mail folder is typically located at the bottom of the list or in its own dedicated section. Once you've located the Junk Mail folder, it's time to add it to your Outlook favorites.
How to Add the Junk Folder to Favorites
There are several ways to add a folder to Outlook favorites—we'll start with the easiest way. To add the Junk Folder to Favorites, simply click on the folder and then select the "Add to Favorites" option from the drop-down menu. This will place the Junk Mail folder in your favorites list for easy access later.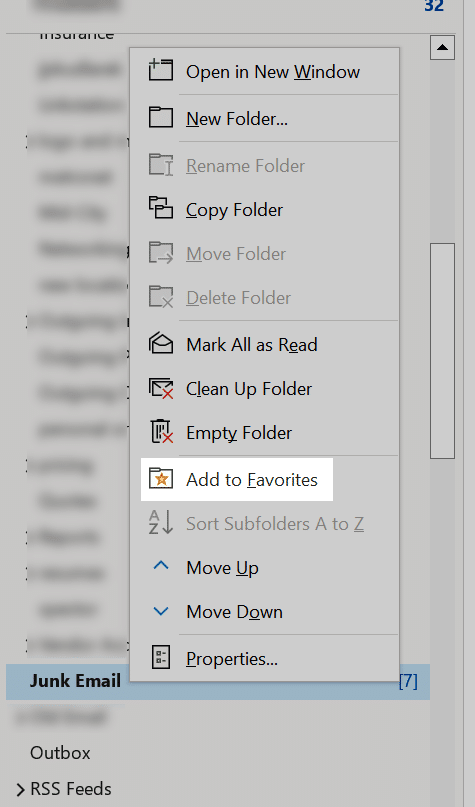 Another way is to click the Junk Folder and drag it to the Favorites section at the top of your Outlook window. This will move the folder directly into that section, so you can easily access it when you need it. With both of these methods, you'll be able to quickly check that folder for any emails you don't want to see in your main inbox.
How to Remove Folders from Favorites
Sometimes, you may find that you no longer need a particular folder in your Outlook favorites list. If this is the case, it's easy to remove mail folders from the list. To do this, simply right-click on the folder you want to remove and select "Remove from Favorites." This will instantly delete it from your Outlook favorites list, freeing up room in your inbox and helping you keep it organized.
Managing Outlook Folders is Easy!
Overall, adding the Junk Mail folder to Favorites is a great way to quickly check for unwanted emails and declutter your mailbox. With these steps, managing Outlook folders doesn't have to be a stress.
Get Proactive IT Support With Run Networks
At Run Networks, we understand the importance of proactive and responsive IT solutions that cater to your unique needs. Don't wait for IT issues to disrupt your operations—contact us today and experience the peace of mind that comes with having a trusted IT partner by your side.